Women Painted Grey Khadi Dress
Size Chart
Highlights
Material - Cotton

Care Instructions - Hand Wash

Origin - India
Delivery Details

Prices inclusive of shipping costs

Ships in 7-15 days

Cash on Delivery available

Product Details
PRODUCT DETAIL- 'Fonder' is from our Hand-Painted Khadi Collection named 'Blooming Tales'. A perfect spring-summer staple,the handpainted florals on Cotton Khadi will remind you of the cool lush & delight this hot season. Pair our dress solely with fresh flowers in your hair & some basic strappy footwear to complete the breezy look.
Its time to laugh & smile to the freshness of Spring. Our dress is a reminiscent of it.Wear it out on the hot summery day out or for a brunch & let the coolness of Cotton Khadi cast a magic spell upon you. "Hand painted clothing"Patchwork or "pieced work" is a form of needlework that involves sewing together pieces of fabric into a larger designCRAFT TECHNIQUE- Hand Painting and Patch WORK
COLOR - GreyMATERIAL -Cotton Handcrafted with love in handloom and hand Painted
FABRIC INSTRUCTION -Hand washSIZE AND FIT- Model wearing small size ,model height-5".7 .SHIPPING DAYS- 10 DAYS. NOTE-Perfect for you to carry yourself in all those happy occasions when you wanna show your signature design!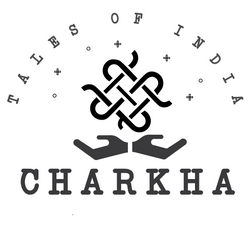 Chat with Seller
Connect for customization or queries.
Usually responds in few hours
Charkha Tales is the best affordable sustainable fashion brand for men and women. We have a trendy selection of luxury clothing. Worldwide shipping and COD available .
Experience VibeCity on Mobile
Contact Us
HSR Layout, Bengaluru, Karnataka 560102

© 2022 VibeCity. All rights reserved