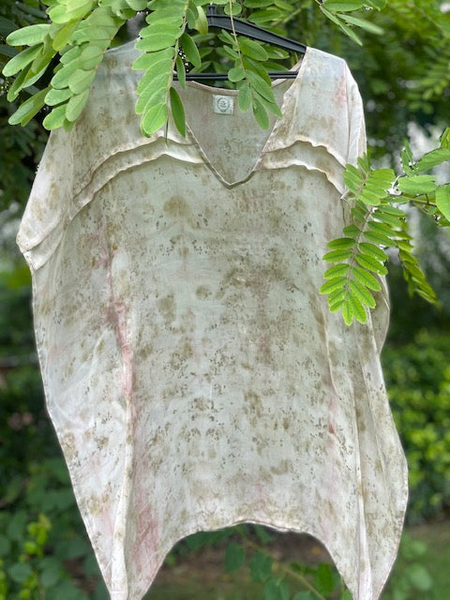 Highlights
Care Instructions - After washing your Eco-printed clothing, take the time to dry it in the shade or turn it inside out. Bring it in as soon as you can and store it in a dark place until you're ready to wear it again. UV rays in sunlight might fade dyed fabric over time, but there's nothing to worry about! If a piece of your Eco-printed clothing starts fading, just give it another dyeing treatment—and watch as it goes from faded to gorgeous! Once they become faded, clothes that have previously been Eco-printed also tend to re-dye well. Just be sure not to wash them with any other fabrics that will ruin the effect.

Origin - INDIA
Delivery Details
Prices are inclusive of delivery charges
Delivery within 15 days PAN India.

Cash on Delivery available
Product Details
This is a luxurious silk flower printed Kaftan. It has a sheer silk bodice adorned with flowers and can be either matched up with palazzos or it can be paired with flared bottoms for an elegant look.
The Eco Vana is an Eco-friendly brand providing Naturally dyed and Eco printed clothing to the society. Our brand was founded on the idea that it's possible to be both s ...
Read More

© 2022 VibeCity. All rights reserved