Vibecity Order Cancellation, Return & Refund Policy
Read about Vibecity's policy for creating hassle free shopping experience & resolving any order issues.
Introduction
Vibecity is an ecommerce platform for customers to buy handmade products by creative businesses from all around India. Our platform takes great pride in introducing these products to you.
Our sellers are creative entrepreneurs who have inspirational stories & take great care in building & selling their unique products. Most of these products can be customised on request.
In an age of fast commerce, Vibecity aspires to make commerce "human" again. Vibecity platform enables customers & sellers to connect over these special items. Please note that all items are listed & sold by sellers who are verified by Vibecity. Vibecity is a facilitator for transactions & a gatekeeper for consumer trust.
Frequently asked Questions
How do I track my order?
Upon placing an order, you'll receive order status messages via WhatsApp as the order makes its way to you. The message will include a link with the order details. Alternatively, you can find the order details in "My Orders" section in your Vibecity account.
All details like items purchased, payment, shipping & tracking are available in the link.
How do I reach Vibecity Support?
Please visit the order details page in your Vibecity account. Please click through the help section to initiate a chat with Vibecity Support on Whatsapp. All queries regarding your order will be resolved proactively through this channel.
Why does my order need to be confirmed by sellers?
All items sold on Vibecity are made by hand, usually in small batches or made to order. When you place an order, the seller is notified, upon which they can confirm if the items are available to ship out or needs to be made before shipping. Accordingly, sellers can confirm the date by which they can ship your order.
If you have any special requests for customisations, early shipping or would like to know more about the items ordered, please feel free to reach out to the seller directly.
Why is my order not shipped yet? Why is there a delay?
When an order is confirmed by a seller, they mention the date by which they will be able to ship the items. If you'd like to get the item(s) shipped earlier, feel free to get in touch with the seller directly.
If the mentioned shipping date has passed, please contact Vibecity Support for swift resolution. Vibecity will take the case with the seller to get your order fulfilled at the earliest.
How do I cancel the order?
To cancel an order, please find the "Help" option in the order details page under "My Orders". Click through the help section to reach Vibecity Support on WhatsApp. You can request a cancellation there.
When can I cancel my order?
In case you would like to cancel an order, you can request to do so within 24 hours of placing the order or before the item(s) are shipped by the sellers, whichever is earlier.
Please note, in case the order contains customisations, the order cannot be cancelled once it has been confirmed by the seller.
How do I return items from an order?
Please check the return & exchange policy below to see if the items ordered are eligible for return. If they are eligible, you can reach Vibecity Support to initiate a return request.
Upon verification of the case, return will be initiated for which the items will be picked up from the delivery address. Please ensure that the items are in the same state as when they were delivered, in its original packaging with any attached labels or tags intact.
How do I exchange items from an order?
Please check the return & exchange policy to see if the items ordered are eligible for exchange. If they are eligible, you can reach Vibecity Support to initiate an exchange request. The exchange process will happen in two stages:
The items will be picked up from the delivery address for return

A new order with the exchanged items will be placed and will be shipped separately by the seller.
Can I return part of the order?
Yes, you can initiate a partial return where part of the order is placed under a return request. Please reach out to Vibecity Support for initiating the return. Any refunds will be initiated accordingly.
Where can I see the status of my return?
Upon a return being initiated, you'll receive messages to let you know when the items will be picked up from the delivery address. Upon confirmation of pickup, a refund will be initiated. You'll receive messages separately mentioning details of the refund status.
How will I get my refund & how long will it take?
Upon cancellation or any case where a refund is to be initiated by Vibecity, we process the refund within 24-48 hours of the request. Once processed, the refund amount will reflect back in account as per following conditions
Prepaid Orders - Amount is refunded back to the original mode of payment. It will reflect within 4-7 business days depending on the original mode of payment.

Cash on Delivery - If the order amount was paid in cash/card on delivery, we will initiate a bank transfer to the account details shared by you while raising the refund request.
Which items are not eligible for return or exchange?
Please refer to the return policy to understand the eligibility of items for return or exchange. As a general rule, all arts & collectible products, furniture, live organic products like live plants, and perishable goods like food products are not returnable. Also, returns will not be accepted under the following conditions:
Product is damaged due to misuse/overuse

Returned without original packaging including, price tags, labels, original packing, freebies and other accessories or if original packaging is damaged

Serial Number is tampered with.

Product is used or altered

If request is initiated after 3 days of order delivery

Any free product provided with the order
What if I used a discount coupon, if I cancel, can I use it again?
Discount coupons are intended for one-time use only and shall be treated as used even if you cancel the order. The discount coupon can not be used again.
Return & Exchange Policy
Vibecity platform is a facilitator for transactions to occur between a consumer and a seller. The products listed on the platform are made by hand & special attention is given to each item made.
However, in the off chance that the product delivered is not upto your expectations, Vibecity takes responsibility to resolve the case in a fair way taking both seller & customers into account.
Vibecity enforces a site wide policy as shown below. All issues will be resolved according to this. No returns will be accepted for customised orders.
Please note to successfully request for a return, you will be asked to provide an unboxing video of the package & clearly showcasing the state of the product as received by you. The video should provide details clearly as per the reason for return.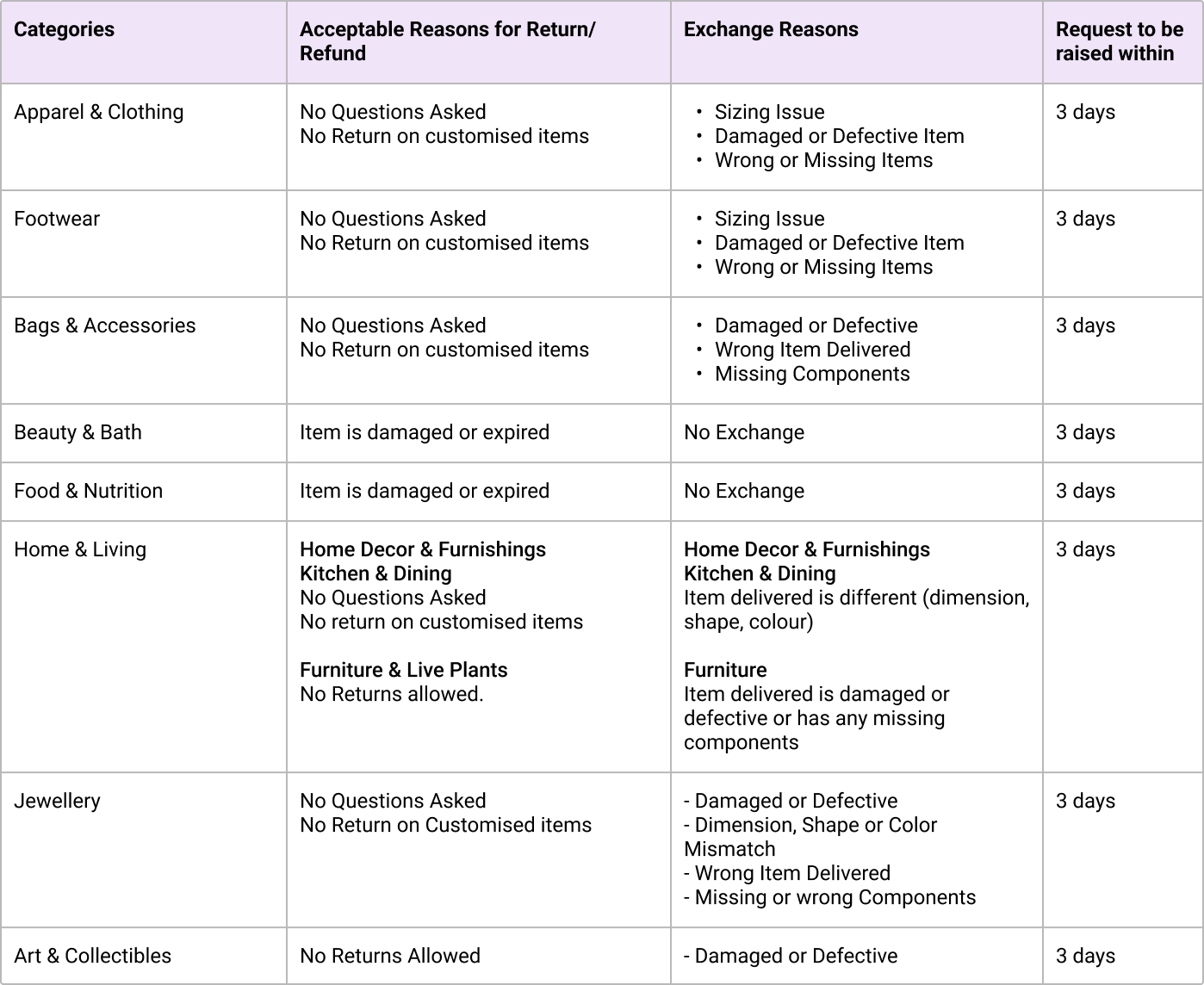 Experience VibeCity on Mobile
Contact Us
HSR Layout, Bengaluru, Karnataka 560102

© 2022 VibeCity. All rights reserved