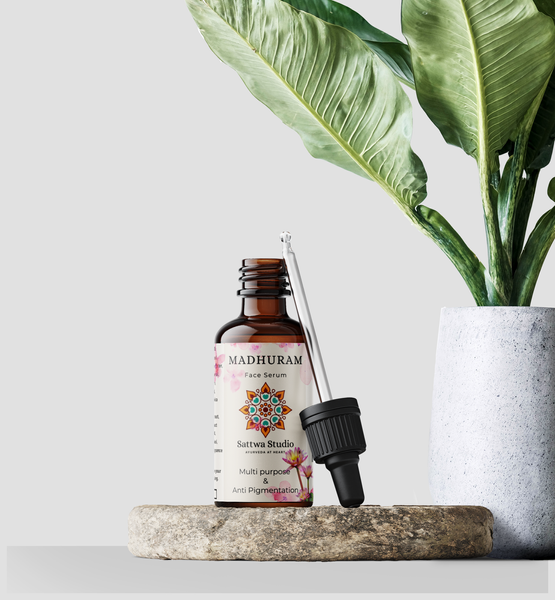 Sattwa Studio Madhuram - 2% Glycolic Acid Exfoliating and Skin Brightening Face Serum with Daisy Flower and Cranberry Extract
₹635

This product is customisable
Highlights
Ingredients - Licorice Hydrosol, Glycerine, Bamboo Water, Allantoin, Panthenol, Olive Squalane, Glycolic Acid, Tamarindus Indica Extract, Daisy Flower Extract, Cranberry Extract, Polysorbate 80, Phenethyl Alcohol, Caprylyl Glycol, Fragrance

Benefits - * Brightens the skin * Soft and smooth skin feel the next morning * Fights Pigmentation, acne marks, and age related dark spots, age lines * Helps in promoting skin elasticity * Hydrates the skin to make it soft and supple * Exfoliates dead skin cells * Antioxidant serum

Recommended For - Recommended for ages 15 and above. Suitable for all genders and all skin types

Fragrance Notes - Floral

How to use - Apply 4-5 drops after washing and toning your face at night.

Package Includes - 15ml Madhuram serum in an amber dropper bottle

Shelf Life - Six months from the date of manufacture.

Origin - Handmade in India (Hyderabad)

Care Instructions - store in a cool dry place
Delivery Details
Prices are inclusive of delivery charges
Ships in 3-5 days from Medak, India

Cash on Delivery available
Product Details
Are you ready to have just a single product in your night routine?
Madhuram is a multipurpose product that'll probably take over your entire night routine!! This serum/hydrator hybrid that gently exfoliates, strengthens, and zings your skin multifold. It's a powerhouse of potent plant based extracts. You don't have to go for a multi step night skin care routine. One Madhuram is enough for you. It's a brilliant AHA serum that has added benefits of moisturising and anti aging. Do check out our aha serum before and after pictures and what makes it the best exfoliating serum out there.
Looking for more reasons to choose?
We would love to tell you more:
Plant based ingredients to fight multiple skin concerns at the same time.

2% Glycolic acid along with strengthening licorice hydrosol and soothing bamboo water as it's base

1% Allantoin, 1% Panthenol, and 1% Olive Squalane to fight skin damage and skin sensitivity

1% Daisy Flower Extract to brighten your skin like no other

100% of customers reported no side effects.

93% of customers noticed their spots fading and skin glowing in just 1 week.

100% Vegan

Free of parabens, silicones, sulfates, phthalates, mineral oil, or petroleum products
Will there be any Madhuram AHA serum side effects?
The glycolic acid concentration is only at 2% making it one of the mildest exfoliating serums. Please do use a sunscreen every morning after the usage of Madhuram or any AHA / BHA for that matter. A patch test is always recommended.
Physical exfoliation vs Chemical exfoliation
Chemical exfoliation defends the skin from damage caused by free radicals and even aids in the treatment of acne scars, dull skin, dark spots, and pigmentation. The top layer of skin is removed by chemical exfoliation, revealing younger-looking new skin beneath. Physical exfoliation is more aggressive than chemical exfoliation and can cause micro scars on your skin.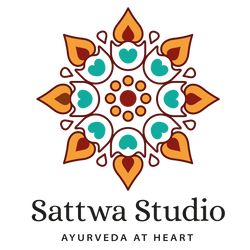 My name is Vasuki. I saw a soapmaking video on YouTube 10 years ago and it changed my whole world. I made my first soap on a cold December morning and never looked bac ...
Read More

© 2022 VibeCity. All rights reserved