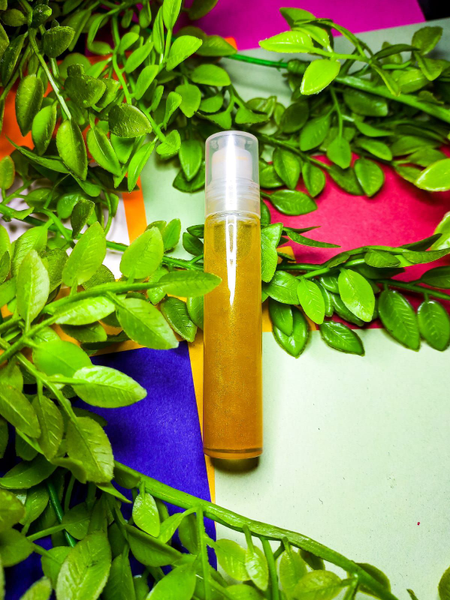 Highlights
Ingredients - 𝐒𝐮𝐯𝐚𝐫𝐧𝐚 𝐁𝐡𝐚𝐬𝐦𝐕𝐚𝐧𝐢𝐥𝐥𝐚 𝐎𝐢𝐥𝐇𝐨𝐧𝐞𝐲𝐑𝐨𝐬𝐞𝐡𝐢𝐩 𝐎𝐢𝐥𝐂𝐡𝐚𝐦𝐨𝐦𝐢𝐥𝐞𝐄𝐯𝐞𝐧𝐢𝐧𝐠 𝐏𝐫𝐢𝐦𝐫𝐨𝐬𝐞 𝐎𝐢𝐥𝐊𝐞𝐲

Benefits - 1) A Perfect blend of vital plant oils and essential oils for your lips infused with 𝐒𝐮𝐯𝐚𝐫𝐧𝐚 𝐁𝐡𝐚𝐬𝐦𝐚.2) Nourishes and leaves the lips comfortable.3) Deposits a non-sticky coat of shine on the lips.4) Leaves lips shiny, non-sticky finish on the lips with a subtle sweet taste.5) Oil based texture.6) Lip Oil that makes your lip fuller and plumper.7) Ultra Nourishing formula that instantly moisturizes chapped lips.

Recommended For - Unisex, 15 years+𝗡𝗼 𝗰𝗵𝗲𝗺𝗶𝗰𝗮𝗹𝘀 𝗮𝗱𝗱𝗲𝗱, 𝗰𝗼𝗺𝗽𝗹𝗲𝘁𝗲𝗹𝘆 𝗼𝗿𝗴𝗮𝗻𝗶𝗰, 𝗵𝗮𝗻𝗱𝗺𝗮𝗱𝗲 𝗮𝗻𝗱 𝘁𝗼𝘅𝗶𝗻 𝗳𝗿𝗲𝗲.

How to use - Roll on a small quantity on your lips.

Package Includes - 15ml product in roll on𝙊𝙧𝙜𝙖𝙣𝙞𝙘|𝙋𝙪𝙧𝙚|𝙉𝙖𝙩𝙪𝙧𝙖𝙡|𝙃𝙖𝙣𝙙𝙢𝙖𝙙𝙚

Shelf Life - 24 months from the date of manufacturing.𝐍𝐨𝐭𝐞𝘼𝙡𝙡 𝙥𝙧𝙤𝙙𝙪𝙘𝙩𝙨 𝙖𝙧𝙚 𝙛𝙧𝙚𝙨𝙝𝙡𝙮 𝙢𝙖𝙙𝙚 𝙤𝙣𝙘𝙚 𝙩𝙝𝙚 𝙤𝙧𝙙𝙚𝙧𝙨 𝙖𝙧𝙚 𝙥𝙡𝙖𝙘𝙚𝙙.

Origin - Thane, Maharashtra
Delivery Details
Prices are inclusive of delivery charges
Delivery within 15 days PAN India.

Cash on Delivery available
Product Details
𝟑𝟔𝟎°𝐎𝐫𝐠𝐚𝐧𝐢𝐜 𝐂𝐚𝐫𝐞𝐆𝐨𝐥𝐝 𝐋𝐢𝐩 𝐎𝐢𝐥:𝐆𝐨𝐨𝐝 𝐋𝐢𝐩 𝐎𝐢𝐥 is lip care treatment infused with all the power of plant oils to nourish and enhance you lip's natural beauty.
𝟑𝟔𝟎°𝐎𝐫𝐠𝐚𝐧𝐢𝐜 𝐂𝐚𝐫𝐞🌸 Redefining beauty❤ Our brand offers beauty essentials enriched with the purely organic resources to cater the need of all ages. All our ...
Read More

© 2022 VibeCity. All rights reserved