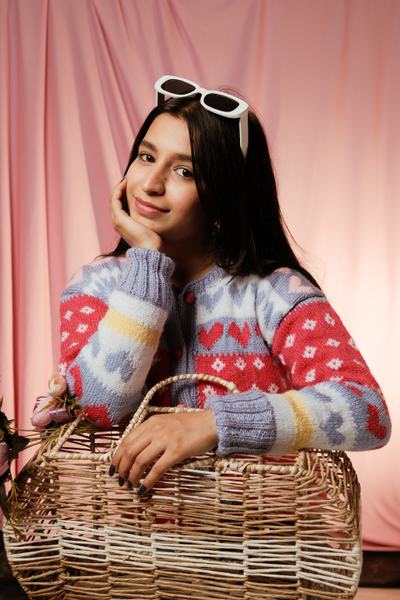 Customisable Hand Knitted Patterned Cardigan

This product is customisable
Rare Find! Only 1 left in stock!
Size Chart
Highlights
Material - wool blend

Sizing/Fit - Zero neck, full sleeves, relaxed fit, regular length

Color - Multicoloured

Style - Buttoned cardigan

Pattern - Abstract

Package Includes - Cardigan

Care Instructions - Hand wash

Origin - Ludhiana
Delivery Details

Prices inclusive of shipping costs

Ships in 7-15 days

Cash on Delivery available

Cancellation or Return not available on customisation
Product Details
This hand knitted patterned caridgan is a wearable canvas of individuality. Filled with geometric and heart shapes as well as various colours, this cardigan is a perfect choice for a vibrant and happy go lucky personality. It is customisable in any colour combination. It includes a variety of warm and soft to skin yarn blends including cuddly soft wool, crepe and nylon. Beyong warmth, it becomes a wearable art piece, reflecting the wearer's personality. Selecting colours and stitches adds a personal touch , turning the creation into a statement of style and self expression. This bespoke approach ensures a garment that transcends trends, offering both comfort and a tangible connection to the artistry of handmade fashion.
Chat with Seller
Connect for customization or queries.
Usually responds in few hours
Finesse India is an online store based in Ludhiana, specialising in Hand-knitted and Crocheted Products including Apparel, Home Decor and Accessories. Started with an aim
 ... Read More
Experience VibeCity on Mobile
Contact Us
HSR Layout, Bengaluru, Karnataka 560102

© 2022 VibeCity. All rights reserved