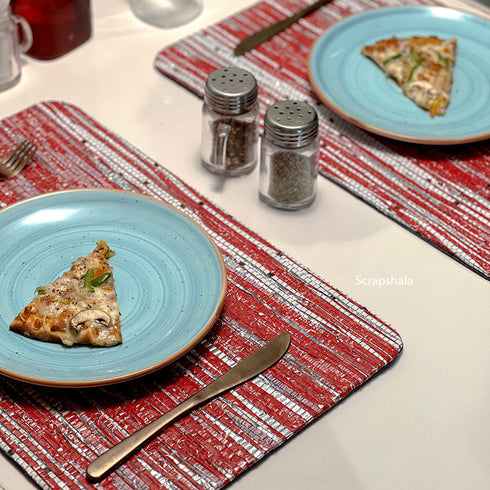 Chamkila Upcycled Table Mat Set | Upcycled | Handloom textile | Scrapshala
Delivery Details

Prices inclusive of shipping costs

Delivery within 15 days PAN India.

Cash on Delivery available

Product Details
The Chamkila range by Scrapshala is designed to introduce a conscious and functional range of products handcrafted from upcycled textile.
Single use plastic bags available in local markets in India is commonly called as Chamkila.
The Chamkila range is made from handloomed single use plastic wrappers.
The product innovation in Chamkila placemats is bound to become a conversation-starter for your guests
It's a multipurpose mat that is stylish, light in weight, foldable, stain-proof and durable.
These mats can be used indoor and outdoor both, as dining table mats, office mats, garden mats, bed mats, study table mat or beach mats.
The mats have no hassle of washing when food falls, just wipe it clean with a wet cloth!
The Chamkila range by Scrapshala will never fail to speak of your conscious style statement and concern for the environment
Know your artisan: Single-use plastic wrappers are hand-woven into textile on a traditional handloom and hand stitched into final product by best artisans of Rajasthan.
Impact: You create employment opportunities for local Indian artisans and save kgs of single-use plastic wrappers from getting dumped into landfills.
How to clean: To clean, use a dry/wet cloth
Dimension: 12 by 18 inch
Material: single use plastic wrappers and cotton textile
Shape: Rectangle
Colour: Multicoloured
Content: Set of 2 placemats
Chat with Seller
Connect for customization or queries.
Usually responds in few hours
Scrapshala is a women-led conscious Indian brand with a purpose of making premium environment-friendly alternatives available to everyone.
We are achieving this by transf
 ... Read More
Experience VibeCity on Mobile
Contact Us
HSR Layout, Bengaluru, Karnataka 560102

© 2022 VibeCity. All rights reserved