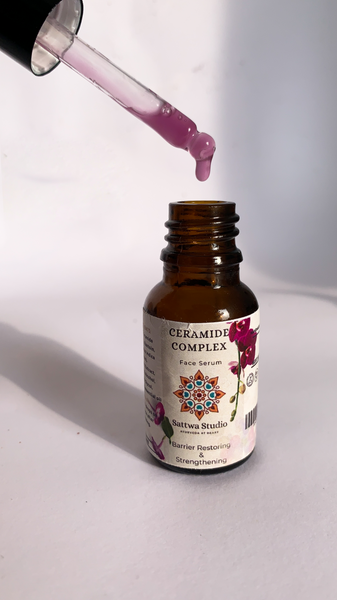 Sattwa Studio 2% Ceramide Complex Face Serum - Skin Barrier Restoration for severely damaged and compromised skin barrier
₹575

This product is customisable
Highlights
Ingredients - Water, Ceramide Complex, Allantoin, Tamarindus Indica Extract, Blue Berry Extract, Polysorbate 80, Phenythyl Alcohol, Capryl Glycol, Ylang Ylang Essential Oil

Benefits - 2% Ceramide Complex Repairs and restores skin barrier for healthy skin function 1% Tamarindus Indica Extract Plant alternative to Hyluronic acid. Locks in moisture and hydrates your skin deeply 1% Allantoin Sheds away dead skin cells and conditions your skin 1% Blue Berry Exatrct Rich in Antioxidants - protects against free radical damage

Recommended For - Recommended for ages 11 and above. Suitable for all genders and all skin types. Especially crafted for severely damaged skin.

Fragrance Notes - Mild floral fragrance because of Ylang Ylang essential oil.

How to use - Apply 4-5 drops after washing and toning your face at night.

Package Includes - 15ml Ceramide Complex serum in an amber dropper bottle

Shelf Life - Six months from the date of manufacture.

Origin - Handmade in India (Hyderabad)

Care Instructions - keep away from direct sunlight
Delivery Details
Prices are inclusive of delivery charges
Ships in 3-5 days from Medak, India

Cash on Delivery available
Product Details
Robust and resilient skin is no longer hard to get. Sattwa Studio's Ceramide Complex serum is probably the best ceramide serum in India right now with just the right ingredients to give you a healthy skin barrier. Packed with a 2% Ceramide Complex, 1% Allantoin, 1% Tamarindus Indica extract – which is plant alternative to Hyaluronic acid (and some claim Tamarindus indica is better), and 1% Blue Berry extract, it is one of the most gentle and effective Ceramide serums available right now.
It heals your skin barrier like no other and prevents moisture loss from your skin. Corrects environmental and photo induced damage and dark spots. While it locks moisture and hydrates your skin, it makes your skin more supple and youthful too.
Looking for more reasons to choose?
We would love to tell you more:
Carefully chosen ingredients that target your skin concern without compromising your skin.

2% Ceramide complex along with 1% Allantoin, 1% Tamarindus Indica extract, and 1% Blue Berry to fight skin damage and skin sensitivity

100% of customers reported no side effects.

88% of customers noticed their skin getting healthier and glowing in just 2 weeks.

100% Vegan

Free of parabens, silicones, sulfates, phthalates, mineral oil, or petroleum products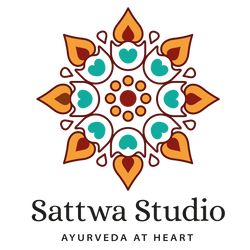 My name is Vasuki. I saw a soapmaking video on YouTube 10 years ago and it changed my whole world. I made my first soap on a cold December morning and never looked bac ...
Read More

© 2022 VibeCity. All rights reserved