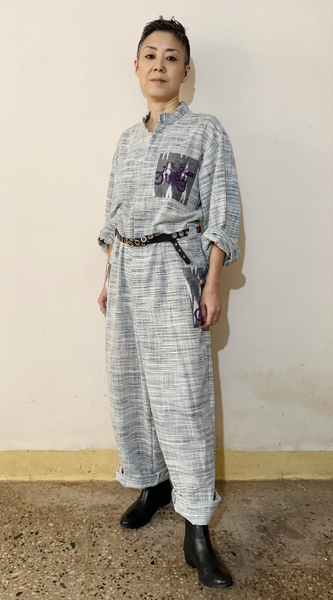 Boiler Suit 2.0 - Khadi Grey feat. Chopper Rani
Rare Find! Only 1 left in stock!
Size Chart
Highlights
Sizing/Fit - This item is made to be "oversized" or very loose-fit. Intended height of this product: Between 5.09ft (5ft + 1.02in) and 5.74ft (5ft + 8.90in)

Style - No lining. Pockets: 2 on the chest, 2 at the side. Opening: Zip-front. Belt loops: 2 in the sides, 1 in the back.

Pattern - With MIRCHI KOMACHI original print Chopper Rani on the pockets.

Care Instructions - Please gently hand-wash, or use a laundry net when machine wash.

Origin - India

Material - Khadi Cotton , Cotton Ikat
Delivery Details

Prices inclusive of shipping costs

Ships in 1-3 days

Cash on Delivery available

Product Details
MIRCHI KOMACHI classic boiler suit 2.0!
It's an Indian boiler suit for daily life with Khadi cotton.
What's 2.0, you ask?
It's oversized silhouette like our Ikat Boiler Suits, but the waistline is shaped slightly.

If you want to mark your waist, wear it with a belt.
You can roll up the sleeves and hems, layer something inside and keep the zipper half-open (remember Nairobi from Money Heist?), or wrap the top part around your waist...
There are multiple ways to style it.

Model: Height 5.35ft (5ft + 4.17in), Bust 33 inches, Hip 35 inches, wearing Size M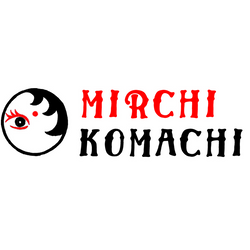 Chat with Seller
Connect for customization or queries.
Usually responds in few hours
'Mirchi' represents 'Unbeatable, edgy, stick-out '. 'Komachi' is a Japanese ancient word representing 'Wise and beautiful woman'.
MIRCHI KOMACHI is an online clothing bra
 ... Read More
Experience VibeCity on Mobile
Contact Us
HSR Layout, Bengaluru, Karnataka 560102

© 2022 VibeCity. All rights reserved